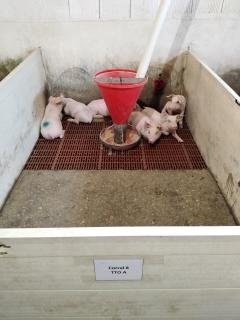 In these photographs you can see the piglets that were used to carry out the tests of the effect of the inclusion of L3, at different levels, in the diet. Piglets were used from weaning (24 days old with approximately 6Kg of live weight) to 65 days of life (with approximately 25Kg of live weight), in productive performance and health status.
3 experimental diets were used with 8 replicates of 6 piglets each. Statistical considerations were taken into account to determine the sample size. There was a control diet, which did not include the additive to be tested (L3), and two experimental diets from the combination of the commercial diet and the supplementation with 150 and 300 g / tn of the additive, respectively.
The results were very promising, with a positive response from the animals.