ONE OF THE PROJECT PARTNERS IS INTERVIEWED IN THE CADENA SER
On January 1, Cadena Ser interviews César Mota, technical director of the partner in the Fertilizers and Ecological Nutrients project (Fyneco). The program "A Vivir Tierra y Mar" of Cadena Ser, was interested in the LIFE OLEA REGENERA project and how it will convert the olive oil alperujo into agricultural biostimulants, which is currently considered a residue to be eliminated.
MEETING OF PROJECT PARTNERS
On May 12, all the partners met to analyze the progress of the project online due to the restrictions caused by the pandemic caused by Covid-19. The meeting shared all the progress in the project, the proposed changes to the process and the implementation of new actions due to obvious delays and restrictions due to the state of alarm.
REUNIÓN ONLINE CON NEEMO
On May 20 and 21, we had a telematic meeting with the person in charge of NEEMO, technical support of the LIFE program, to comment on the status of the Olea Regenera project. This meeting was scheduled to be a physical visit, but we will have to wait for the new normal. At that meeting, they discussed the progress made to date and how the difficulties and delays caused by the pandemic will be resolved. The NEEMO monitor, María, was able to verify how the proposed work plan did not modify the end date of the LIFE project. The deadlines and rehearsals originally contemplated will be met, overlapping the performances.
INTERNAL PARTNER MEETING
CEBAS-CSIC holds a strategic meeting with Fyneco to determine the crops and trials that will be carried out until the end of the project. With this meeting, the validation schedule of the 7 biostimulant products and the analyzes of each target culture that have been determined are shared. With this, we are ready for the validation of new products both in the culture chamber, in the greenhouse and in the field, under commercial cultivation conditions!
SUBPRODUCT L3 VALIDATION
The CEBAS-CSIC resumes the validation tests of the L3 by-product after the alarm status. CEBAS is analyzing the possible biological effect and phytotoxicity, resuming the trials that were interrupted by COVID-19. These tests will be decisive to know the antioxidant content that the formulations that the Fyneco company will carry out must have.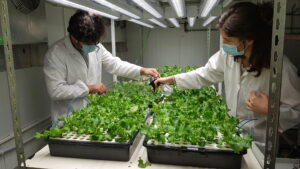 The agrochemical company Fyneco already has a homogeneous L3 with a high content of Hydroxytyrosol and has all the data from the effectiveness and phytotoxicity tests provided by the CEBAS-CSIC. For this reason, Fyneco has reformulated the 7 biostimulants, verifying stability of final properties to be able to be validated in the field.
VALIDATION OF BIOESTIMULANT PRODUCTS 
This November, the CEBAS-CSIC begins with the validation of biostimulant products rich in antioxidants formulated by Fyneco. This validation is carried out in a culture chamber on lettuce plants. The controlled environment of the chamber will give us important data on the 7 formulations and their biostimulant action.